From a dj/blogger/A&R/channel perspective, SubmitHub looks like a blessing. Going through the daily bulk of email submissions for some good music can be pretty dreadful and time consuming. Why not do it faster while making some money in the process too, right?
Indie Shuffle's founder Jason Grishkoff created SubmitHub for that very purpose. "The main problem was that as Indie Shuffle got more popular, we received more unsolicited emails. It quickly became a chore. Where I used to look to Hype Machine and SoundCloud to find music, my inbox was now inundated by publicists, artists, managers, labels and everything in between — all asking for coverage on the blog. It was overwhelming, and not even slightly enjoyable."
SubmitHub – currently connected to 100+ blogs – lets artists and public relations professionals send music over to blogs for potential reviews. The service is free, but for one dollar per submission SubmitHub guarantees that an artist's target blogger listens – for at least 20 seconds to be more precise.
Said blogger receives half of that dollar without having to post about it, but on the condition that he or she writes up some private feedback for the artist. As for the other half: "SubmitHub keeps what's left after bulk discounts, coupons and processing fees."
These might sound like lemonade stand level prices. Still, for the first time bloggers, music channel admins and other taste-makers are easily getting paid for something they most likely have been doing for free for most of the time. And depending on how many submissions a blog gets, the money could be a serious deal as well.
Still it might be too late for bloggers. Music blog aggregator Hype Machine hasn't been attracting nearly as many visitors as the site's glory days around 2010 (figure below). The future doesn't look too bright for blogs dedicated to the site. "Yes. It's dying. Indie Shuffle has stayed above water, but certainly isn't what it used to be. But as platforms like Spotify and SoundCloud emerge as victors, the bloggers are switching to those platforms. Today's new blogger is a SoundCloud channel with 200,000 followers; or a Spotify playlister with a bunch of followers. The landscape is changing, and I'm eager to make sure that SubmitHub is at the forefront of that change. My upcoming focus is to shift away from music blogs, and start to focus on taste-makers on other platforms such as Spotify and SoundCloud."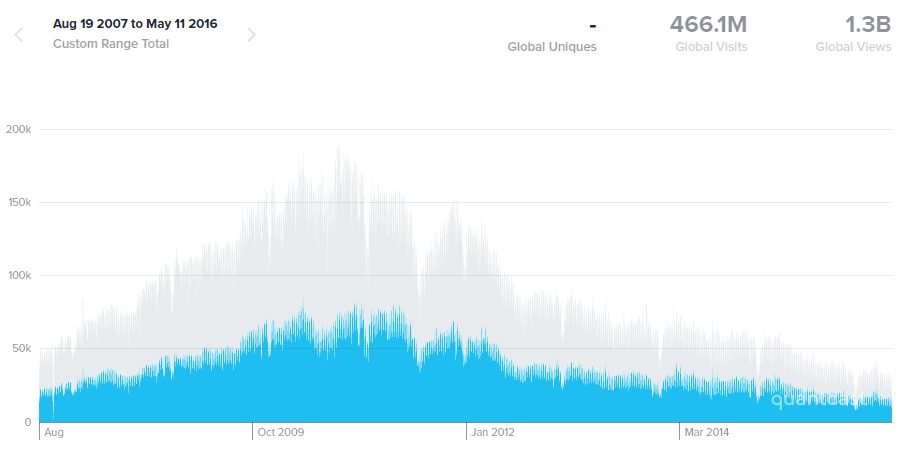 After its launch in late 2015 Grishkoff's project was met with both praise, curiosity and criticism such as: "If you want to pay a website money to submit tracks to bloggers whose motivation to listen will be because they get paid a pittance and not because they care the this is the service for you". While simply dividing 'bloggers' up into two different camps of sincere music lovers and money whores is probably a bit short-sighted, there's a point in asking what payment does to a person's judgment. Isn't SubmitHub actively encouraging blogs and channels to not listen to artists elsewhere – eventually forcing artists to pay for attention? After all, SubmitHub is the place to make some money – why tend to Soundcloud or email inboxes anymore? Or: should upcoming indie artists with little to no budget be paying for this kind of attention at all?
Grishkoff: "That argument could be made.  But you're forgetting that there's no requirement to pay to use SubmitHub.  The majority of blogs have a near-100% response rate on free submissions. Ignoring the pay part, you're right about this limiting the reach. Personally, I've stopped looking elsewhere for new music: I get enough of it via SubmitHub. In light of that, I've actively avoided encouraging my other writers to use the platform. I believe that on my team, everyone should maintain unique sources and inputs — otherwise we'd all be posting the same stuff."
For the past 24 hours, we've been taking submissions on SubmitHub. And while writing positively about music you love is a breeze, politely turning down artists who aren't quite making the cut is hard. Yet, this sort of feedback does look like it has a much greater value for the indie artists. It is better than simply being ignored or brushed aside by taste-makers who have half a million other submissions to listen to.
Our only approved track of the day – 'Magic', a song by NYC based duo Blind Benny – actually sparked an email conversation for more feedback on their sound: "Its incredibly helpful to be able to pick someone's brain who is a music lover, but is on the fan/blog side of things. We've been doing this a long time and while we know a lot of artists/musicians/industry folks, we really don't have a lot of perspective on our work from music lovers and avid music listeners who aren't necessarily 'in' the industry. "
While the experience of any artist might not turn out to be the same as the one above, the only way for an artist to figure out if this works is probably to start experimenting with SubmitHub themselves. Jason Grishkoff is hopeful: "It might get to the point where SubmitHub is the de facto way to share music — the same way that if you're a new artist and you haven't uploaded your song to SoundCloud, people are going to look at you like 'you're crazy?'".
For now we're not questioning anyone's mental stability if an artist is or is not on SubmitHub. Same goes for blogs not on there – if you're doing it for the money, the $10 we made in a day is probably not a reason to stick around. For taste-makers this is not going to be a proper business model yet. But for the weeks to come we'll definitely be around to take more music submissions. Because unlike our inbox, SubmitHub is fast, direct and uncluttered which makes it one of the better music filters we know.
More info SubmitHub FAQ
Featured Image Jason Grishkoff / Yann Macherez